Everyone is capable of more than they believe.
Building capacity of individuals and organisations to achieve sustainable outcomes in Australia and the Pacific
Leadership development and agency reform
Are you seeking to build the organisational and leadership capabilities of public sector and commercial agencies in the Pacific?
Do you need help to develop a roadmap to achieve results and improve performance? 
Are you struggling with, or wish to support your staff, across all the changes of the last two years?
Do you need someone to support them to reconnect and grow into their potential?
If you want a relationship with a trusted partner to help improve performance and develop authentic leadership that is sustainable then we at Xseed Lead are here to support you.
Xseed Lead will analyse your current situation against good governance and leadership theory and develop an implementable pathway for change. No-one understands your situation better than you, and consultation is the foundation of our approach. Our work is undertaken collaboratively to ensure you have ownership of the process, and the results, so you achieve the change that matters to you.
Xseed Lead provides quality support to the region with over a decade experience supporting Pacific nations to improve governance practices, advocating for gender equity, and building sustainability into systems. We have engaged as a government official, held senior technical adviser and program management positions, which enables us to design and implement technically robust initiatives. This combination of expertise means we are also able to oversight, evaluate and report on aid initiatives to donor and host government standards.
 Our services in Aid work include:
Agency reviews with implementable plan to build capability
Private-public partnerships
Public sector capacity building
Leadership development
Program design and implementation planning
Workplan development support
Specialised consultancy services 
Xseed Lead provides five types of services for our clients:
For You - Executive and Leadership Coaching
Xseed Lead will support you to achieve your goals and strengthen your leadership – in a way that honours your values and choices
For individuals we provide executive coaching and leadership development support, along with access to our courses for targeted skill development. Our services are customised to your needs, focusing on building your confidence to improve performance.
For your Organisation – Leadership, Agency Development and Targeted Projects
Our organisational services are targeted in supporting Pacific public sector agencies to improve their performance and leadership capabilities.
Xseed Lead can undertake an analysis of agency capability and develop plans to address any identified gaps. Consultation is the foundation of all our work, ensuring we listen and provide results matched to client needs.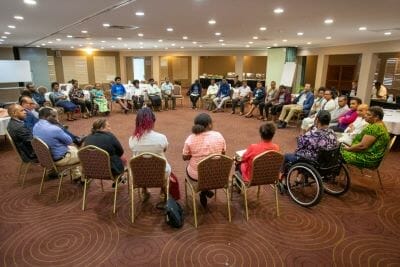 Courses and Products
Xseed Lead provides pathways to build staff capability in the targeted areas of leadership, contract and grant management, report writing, and risk. Additional support can be developed in governance and management topics on the request of clients..
Specialised consultancy work
Xseed Lead provides specialised consultancy services in Australia and the region in areas of capacity evaluation, strategy and implementation design. We undertake a collaborative approach to work ensuring stakeholder representation and buy-in to results.
We are known for our structured planning, client focus and the quality of our writing.
Speaking and Facilitation Services
Our founder, Deborah Knight, enjoys speaking on leadership and management topics, especially linked to cultural awareness and inclusivity or targeted in the aid/development context, for the public or private sector.
The Xseed Lead team enjoys facilitating collaborative and engaging workshops focused on addressing an issue or solving a problem – ensuring the participants are heard respectfully, outcomes are obtained and a path forward for action developed.
Email or fill out our Enquiry form and we will respond within 24 hours to have a quick discussion about your needs.
"I believe that everyone is capable of more than they believe.
I believe that what we see in ourselves isn't our true potential and talent – what we can reach if only we gave ourselves permission to try.
I created Xseed Lead to help others break any limiting perceptions and gain the skills and confidence to transform into the leaders and agencies they aspire to be, improving performance and results.
 You have far more control than you think. Talk to me and I will help you realise it."
 Deborah Knight
Do you like the photos on this webpage? We do too!
They are from our good friend Ness from madNess photography. You can see more of her work by visiting her website.
Alex S, Manager
Wollondilly local government, Picton
Deborah has really helped me improve my performance and realize more of my potential. I've been working with Deborah for about four months now and am more than satisfied with the results. Among other things, she helped me to Identify and gain clarity on my personal and professional goals, to make significant progress towards them, to learn better ways to deal with stress and anxiety, and to break up thought patterns that were holding me back.
Through the techniques and "homework" I was furthermore able to make significant moves towards these goals, step by step and week by week. Deborah adapted the content and methodology based on what worked effectively with me.
It has been a pleasure to be coached by Deborah and I can recommend her to anyone who is looking for professional coaching. It's been a great journey and I look forward to continuing it. I also want to note that Deborah was flexible and offered such a wonderful service for working parents. Deborah is a great coach and I deeply value the time we've spent together and the progress she's helped me make in my life.
I wouldn't be this far along in my goals or have this much courage to push forward without her support.
Vanessa P, Special Projects Manager
Center for International Private Enterprise, Papua New Guinea
I am privileged to have received Executive Coaching from Deborah. Deborah's approach to coaching is very professional and brought me immediate benefits.
She is very knowledgeable and gives very practical and effective advice. She has a really unique way of sizing up leadership and business challenges and then guiding you to a successful solution using a strategic approach.
She is patient, and she knows how to gently push you to maximise your potential to perform better and be a better leader.
Receiving coaching from Deborah has enabled me to shape and implement a set of personal objectives that have improved my performance at work.
She has empowered me to clearly identify the areas on which to focus in order to bring the greatest benefit to my career development.
Deborah truly made my interests and success her paramount concern! I highly recommend Deborah to anyone who wants to get clear about their goals and achieve their outcomes – she is amazing and really knows what she is talking about.
We welcome your contact and will respond within 24 hours